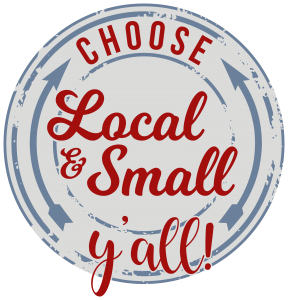 We are so excited to be partnering with Choose Local & Small Y'all for the We Choose Hope campaign. We need your help to make it a success and make a big impact in the lives of children and families in need. The We Choose Hope campaign has three phases and lots of ways you can help.
---
Phase 1: Heroes for Hope
Community of Hope has partnered with newhope church and the Garner Lions Club to offer a full-day remote learning program to support students whose parents can not afford child care while the schools are operating under the virtual learning plan. Students have day long supervision split between the three sites. Students receive breakfast and a hot lunch daily, as well as two daily snacks. Each week families have also received a box filled with fresh produce.
Most importantly students are supported in a safe, structured classroom environment with the same caring teachers every day. This is a tremendous opportunity for Community of Hope and our partners to fill the huge gap in learning for vulnerable children and families in our community. We all jumped into the program trusting God will provide the funding.
Our "Hope League" is recruiting new heroes and we are looking for local businesses and community members to be Heroes for Hope. We are looking for heroes to help sponsor children in the remote learning program. A gift of $160 will prevent hunger, isolation and instability for the most vulnerable children in our area. When you sponsor a child you will get your picture taken holding our "Heroes for Hope" frame and will be announced on social media.
Phase 2: Local Business Food Drives
October 1-21
Did you know that Community of Hope has not missed one regular food pantry distribution day during the pandemic? We have been blessed to be able to meet the growing need in our community but need your help to keep our shelves stocked. We are partnering with over 20 local businesses to collect food for our food pantry.
Feel free to drop off food at any of the following businesses:
AAMCO Garner
Alossi Renewal Spa
Anfesa's Jewelers
Aversboro Coffee
Aversboro Restaurant
Blinson Insurance
Charles Ashley Mann, DDS & Associates – Garner location
Chiropractic Partners – Dr. Betsy Casey
Crystal Dempsey – Edward Jones
FuZion Fitness Studio
Garner Appliance and Mattress
Garner Fire Rescue (All stations and administrative office)
Garner Police Department
The Growing Place
Jones Insurance Agency
Lorraine's Coffee House & Music
Matt Davis State Farm
MoonRunners Saloon
Rush Hour Karting
Saint Andrews UMC Preschool
Shady's
Sims Family Dentistry
Southern Realty Group
Studio 121
Sylvan Learning Center
Tavern on the Green
Turner Farms Self Storage
Van-tique Barbershop
White Oak Pharmacy
Zin Yoga Studio and Wine Lounge
Phase 3: Cash Mob
Wednesday, October 21 – 8:00am-6:00pm
Choose Local & Small Y'all has been organizing cash mobs to help support local businesses. The goal of the cash mob is to organize a day for people to visit a local business and support them by spending money at their business. On Octobers 21st they are shaking-up their business cash mob by mobbing Community of Hope! From 8:00am-6:00pm, you can drop off non-perishable food items at First Baptist Church of Garner. You can also "drop-off" a monetary donation (cash, check, or credit card). You can also give online through Facebook on the Community of Hope Facebook page.
Throughout the day, Community of Hope will go live on their Facebook page to give you glimpses into the remote learning program, food pantry, and the other 7 ministries they operate. Be sure to keep an eye out for the videos to get a glimpse into the programs you are supporting. Any food donation or monetary donation of $20 or more gets an entry slip into our raffle basket sponsored by Choose Local and Small Y'all.
Here is what we can do with your monetary donation:
$25 = Fresh fruit for snacks for 1 after school student for 1 week
$60 = One food box for an after school family with a week's worth of groceries
$160 = Sponsor the after school/remote learning tuition for a student for one week
$170 = Sponsor the tuition of a summer camper for one week of summer camp
$200 = One year subscription to an online learning application (like Learning A- Z) for 80 after school students
$250 = Purchase an entire pallet of meat from the Food Bank of Central and Eastern North Carolina
$450 = Sponsor the tuition of a family for summer camp for one week
We want you to choose hope
2020 has been a rough year for all of us, but in spite of all of that we are choosing hope. Our hope is that you will partner with us to spread hope and the love of Christ to those in need in our community.