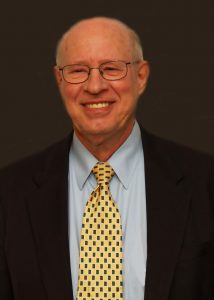 Chris Jennings
Chris was born in Alexandria Virginia, graduated from Bertie High School and attended Virginia Polytechnic Institute, majoring in engineering.  At the height of the Vietnam War, Chris volunteered to serve in the U.S. Army and spent two years in Natrang, Vietnam where he began his accounting and finance career as Chief of Civilian Pay for the Army.  In this position he supervised a support staff of 26 and was responsible for paying 3,500 Vietnamese civilians who were employed by the U.S. Army.
After discharge from the Army, he resumed his education at Campbell University, where he obtained a degree in Business Administration with a specialty in Accounting.  He worked 30 years in manufacturing accounting and another 10 years in various aspects of construction accounting and tax preparation.  He has volunteered with many different service organizations including the Jaycees in Zebulon, N.C. Chris has served as a Cub Scout and Boy Scout leader.  He has also volunteered with Christian Library International and is a supporter of Fellowship of Christian Athletes.
In 2005, Chris was asked to manage the accounting and tax preparation for a new 501c3 charitable organization in Garner. He agreed to join Community of Hope Ministries as a volunteer and has continued in that capacity for the past 11 years.  He secured additional education and training in accounting for nonprofit agencies to supplement his knowledge and skills, and became an IRS Certified Tax Professional.
Chris currently is Treasurer for Community of Hope Ministries in a volunteer capacity.  He manages all accounting, banking, payroll, and non profit tax preparation (monthly, quarterly, and annual tax reports, and their 990's) for the organization.
Chris and his wife Ruth live in Garner and attend First Baptist Church where Chris sings in the Worship Choir.  He volunteers in the Food Pantry and participates in work projects through the Carpenters Hand program which is part of COHM and N.C. Baptist Men.  In his spare time he enjoys woodworking and gardening.